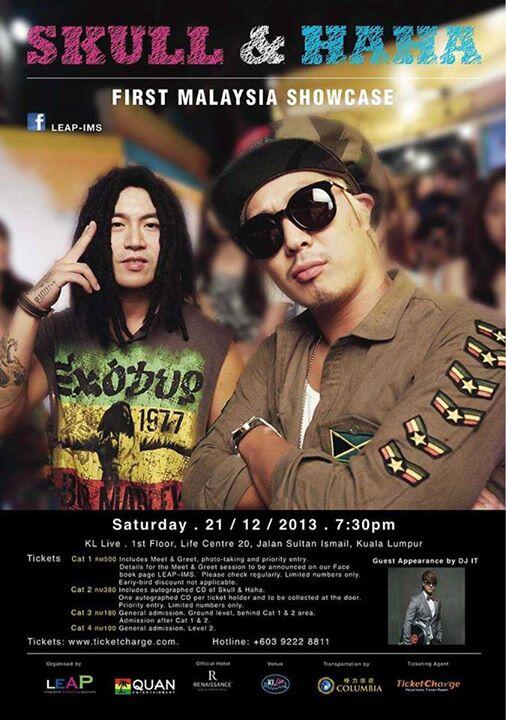 Kuala Lumpur, Malaysia, 20 November 2013 – One of the most dynamic live performances is coming to town!
Top Korean reggae artistes Skull & Haha will be in Malaysia for the first time on Saturday, 21 December 2013, to meet fans up close and personal.  In addition to a separate meet & greet session, they will be bringing their fun, unique blend of Korean reggae music and high-energy performance to celebrate the year's end with fans.
Ha Dong Hoon (a.k.a Haha, Haroro, 河东勋 ) has been the main cast of highly popular Korean variety shows 'Infinite Challenge' since 2005 and 'Running Man' since 2010.  On 30 December 2011, HaHa was honoured the 'Best Entertainer' at the 2011 SBS Entertainment Awards for his outstanding performance in 'Running Man.'  The hit variety programme from Korea has also taken the world by storm, including North America.  The programme currently goes on air regionally on ONE TV ASIA, our official TV partner for the showcase in Malaysia and Singapore.
In addition to being a popular presenter, deejay, actor and comedian, HaHa is also a well known singer in Korea.  A former member of hip hop group, Zikiri, Haha released his single album 'You're My Destiny' in 2007 and it reached the number 1 spot on the Gaon Chart (Korea's national music chart).